We continue to cover the hottest new products from golf club manufacturers. Previously, we reviewed the Titleist Vokey SM9 Wedge 2022. Today we decided to take a closer look at what Cobra has in store for us in this year. First of all, we like that Cobra released whole set of LTDx clubs – drivers, fairways, hybrids and irons. We will test everything Cobra offers us this year and give our verdict on each product separately. Stay tuned for our reviews. Today we take a closer look at the new Cobra LTDx Drivers.
Cobra LTDx Drivers: 2022 Release
We can note right away that Cobra used both new features and improved existing technology in the design of the LTDX.
To that end, let's turn to Cobra's driver history, when the company introduced the Cobra Kind LTD (Longest Total Distance) in 2015, and claimed that it was the first driver to reach the Zero CG (neutral axis). What did that mean for players? That the Cobra drivers combined maximum energy transmission at impact without sacrificing forgiveness.
The company was guided by the fact that a center of gravity that is above the centerline tends to result in increased spin. The bet was made on a zero center of gravity, which should allow golfers not only achieve a low spin , but also ensure high ball speed.
And now, after 7 years, we see that Cobra decided not to change its success with Cobra Kind LTD, and implement the same principle in new Cobra LTDX clubs. The combination of 5200 moment of inertia (MOI) with Zero CG allowed the LTDX driver to increase torsional resistance on off-center shots and maximum forgiveness.
What new technologies has Cobra introduced in Cobra LTDx Drivers?
A major challenge for Cobra's engineers when designing Cobra LTDx clubs was to create more forgiveness by increasing the weight in the club head. PWR-COR technology is a multi-material internal weighting system that allowed weight to be placed low and forward of the club head to provide lower spin for distance and a faster ball flight.
To maximize forgiveness, Cobra engineers added a tungsten back weight, which is included in the 15 gram combined back weighting to increases stability and ball flight with maximum carry distance.
We'll take a closer look at the weight distribution of each driver separately.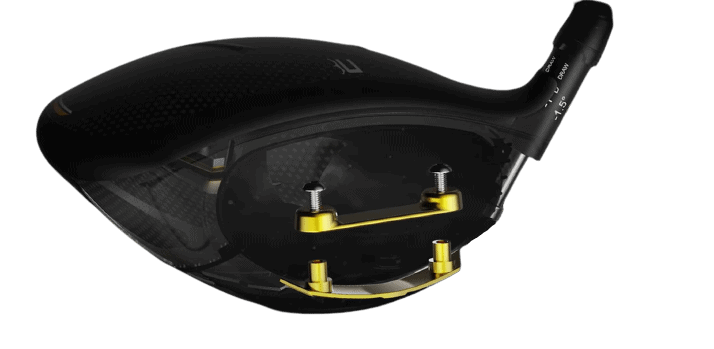 H.O.T. (Highly Optimized Topology), a new Cobra technology introduced with the LTDx family has replaced Cobra's well-known E9 Face Technology, which had an elleptical face pad and elleptical shape to the face in order to create 30% larger sweet zone due to taller toe section of the dirver.
A new H.O.T has been precisely adjusted for speed through the use of machine learning. Company has constructed 15 separate zones with optimized thicknesses based on data from numerous of impact simulations in order to boost golf ball speed throughout a larger area of the face.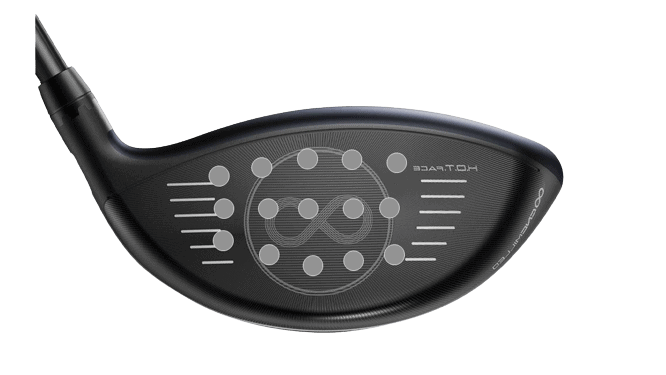 Cobra first introduced Infinity Face technology in the King F8, and since then we have consistently seen CNC milled Infinity Face surfaces in Cobra drivers. The CNC milled-face extends the maximum ball speed area with 5 times the accuracy of hand polishing, which according to the company does not spoil the radiuses of the convexities, preserving the design of the face. Also, eliminating excess titanium increases discretionary weight and expands the sweet spot. All of these manipulations give every chance to increase ball speed.
But this technology also has a, albeit small, disadvantage. If you hit balls off the front edge of the crown frequently, it will invariably leave marks on the club.
Multi Material Construction
Cobra's multi-material construction was created for the LTDx drivers using a carbon crown and sole, and a stable titanium chassis. Why did Cobra need to abandon their successful T-Bar chassis, known to us in use in many of the company's drivers? It was all about freeing up weight to introduce PWR-COR technology. The new design is 8.3g lighter. In addition, it allowed to use more carbon fiber.
So, Cobra offers us Cobra LTDx drivers to choose from.
The COBRA LTDx provides forgiveness, low spin and ball speed by balancing a 19-gram PWR-CORE front weight and 15.5 grams in the center rear sole weight.
There are no moving weights in this driver like there are in the Cobra LTDx LS and LTDx MAX.
Here we want to remind you of the notion of "unicorn" applied in the golf industry to clubs that were a kind of "discovery". So, the COBRA LTDx had the honor of being a "unicorn".
In order to make this list, the Cobra had to combine what seemed impossible to combine: low spin and ball speed, extreme forgiveness,MOI above 5,000, plus zero CGna. Impressed? Us, too.
The LTDx LS is the lowest-spin model in the LTDx driver family.
This driver is best suited for players who need ultra low spin and high stick performance.
Considering the fact that out of all three models, LTDx LS is the most aerodynamic model, it will clearly be preferred by players with high swing speed.
To ensure low spin, PWR-COR technology distributed the weight in this driver low and forward, placing an internal weight of 14g of MIM steel and an external weight of 5g of milled stainless steel. The final result achieved its goal of increasing speed and reducing spin.
To adjust the trajectory, the 460cc LS driver features adjustable weights that can be swapped out.
Cobra LTDx MAX is the exact opposite of the LTDx LS, being the most balanced between forgiveness and ball speed of the LTDx drivers.
The LTDx MAX stands out not only in the LTDx family, but also in the golf driver market with its center of gravity location, which Cobra claims is 1mm above the neutral axis.
The weight of the front end is 12 grams, leaving 13 grams available, which can be split with 10-gram and 3-gram weights. So you can choose between a super forgiving driver – taking the heavy weight back, or get more traction effect by moving it to the heel port.
The LTDx MAX offers maximum forgiveness and the highest spin among other Cobra LTDx drivers.
A back-weighted head and extra weight located in the heel provide golfers with maximum facial alignment assistance.
The LTDx MAX will suit players looking for high forgiveness in a driver with off-center hits or slice correction.
Cobra LTDx Drivers MOI (Comparison Table)
Stock Shafts for the COBRA LTDx driver family
All of the models feature Cobra's eight-way adjustable hosel, which allows for loft and face angle adjustments of plus or minus 1.5 degrees, as well as a CNC milled face, which ensures that the curvature, face thickness, and loft specifications are met precisely. One difference between previous versions is that the milling no longer extends over the topline.
In addition to the standard length of 45.5 inches, a "tour length" is available, which is one inch shorter than the standard length. The LTDx Max is available in both women's and junior versions, with the junior version including a free shaft upgrade as the child grows.