So, you've decided to start playing golf. Good choice! However, it can be challenging to choose the right type of golf clubs to start with. You will need a set of Golf Clubs for Beginners that consists of a driver, a putter, irons, and a wedge or two in addition to the clubs. It is critical to find the best club sets for beginners. Remember that such a set will include at least a driver, two woods, one putter, one hybrid club, two wedges, and seven irons.
The quality of the clubs, the price of the bundle, and the diversity of features are all important considerations when shopping for club sets for beginners. The most important thing for you to do now is to feel for the game. Inexpensive and more uncomplicated set of golf clubs will do the trick. Do not go for the fancy high-end used clubs, as stiff irons and high-difficulty drivers can make it harder for you to learn. Remember that at this stage, you need to be comfortable while using golf clubs.
Best Golf Sets for Beginners in 2022: For Gents and Ladies

Aiming to suit the demands of beginning golfers in the most effective way possible, the Callaway offers Men's Strata Complete Set. This set of clubs will provide you with longer shots, greater control, and greater confidence. Its overall performance, as well as its technological advancements, will ensure that you get off to a strong start.
This collection includes everything from drivers to putters, giving you the ability to have it all in one place. It becomes much easy to practice and begin learning as soon as possible as a result.  1 one driver, 3 wood, 4 and 5 hybrids, 6 to 9 iron, PW and SW, Putter, a stand bag, and 4 head coverings included in the set.
Even though other club sets have only one hybrid, Callaway Men's Strata include two hybrids in order to capitalize on the increased demand for these clubs. You will receive a 4H and 5H Hybrid, which will allow you to have greater control over your shots.
A forgiving wood is a fantastic choice for long and high soaring shots, and this package includes the titanium 3 wood, which is a great option.
The irons that are offered are well-balanced and have a choice of long-range options. These are constructed of stainless steel and are outfitted with high-performance technologies. Both the sand wedge and pitching wedge contain the same type of substance.
Designed for improved accuracy and distance control, this putter will allow you to sink more putts and play more precise shots on the golf course. With the entire package, you will also receive a lightweight, robust stand bag that is both stylish and functional, with pockets for all of your necessities.
It's hard to believe how many clubs you can receive for your money with this deal. For novices, this is an excellent introductory club set due to its excellent construction quality, sophisticated design, forgiveness, balance quality, longevity, excellent feel, and ultimate performance.
These Wilson clubs will provide you with an unmatched sense of quality that can only be found in more expensive club sets. If you seek high-quality pieces of equipment and a lightweight set of clubs with a premium bag, this club set is likely to be a fantastic choice.
Although the club set is not as comprehensive as the Callaway Strata, it still contains several excellent clubs. You'll get a driver, a fairway wood, a hybrid, and irons from 6 to 9 inches in length. The set also includes a pitching wedge and a putter, but the primary negative is the absence of a sand wedge. Including one more fairway wood would have significantly increased the overall value of this kit.
You will have these clubs packed in a stand bag that will activate automatically. It includes a large number of pockets for storing critical items. There is a 460cc driver with a large sweet spot. This makes teeing off easier for those who are just starting. If you have trouble hitting accurate fairway shots, the hybrid included in this kit should come in handy for you.
The sweet areas on the irons are particularly huge. As a result, you should expect greater forgiveness as well as improved accuracy. There isn't much to say about the pitching wedge except that it is of typical quality. The heel-and-toe design of the putter may be appealing to you.
This is a great club set for beginners who wants to improve the overall quality of their game. The pricing is reasonable, and the overall impression is positive. The clubs have a lot of forgiveness and a lot of sweet spots. As a result, this club set comes close to being ideal.
Another complete set of golf clubs ideal for beginners comes from the company PreciseGolf. The M5 golf club set is available in both right-handed and left-handed configurations for right- and left-handed golfers. You can also get this set if you are a tall golfer. The stainless steel used in the construction of this set is used throughout. The Precise M5 men's club set debuts with a fresh design and feel appeal to a wide range of players.
It comprises a 460cc titanium driver, very forgiving #3 & #5 fairway woods for long high-flying shots,  #4 hybrid,  5 PW steel irons, and a putter. It also comes with a premium stand bag and three headcovers to protect your clubs while on the course. The 460cc driver is designed to deliver the most forgiving feel while simultaneously covering the longest distance. Additionally, the shaft material improves the overall performance and quality of the club. For iron, you'll get steel shafts, and for wood, you'll get pure graphite shafts.
In addition, you will receive a fantastic aiming mechanism putter with this bundle. At first, you may find the putter to be a little hefty, but after a while, you will become acclimated to its weight. This remarkable deluxe stand bag features large compartments, a double shoulder strap, and a kickstand.
This set consists of essential clubs at a reasonable price. On the other hand, these primary clubs will be required from the very beginning of your game. Both beginner or intermediate players will most likely enjoy playing with these clubs.
Whatever your skill level, the offset will help you hit the ball in the air fast and adequately, regardless of whether you are a novice or intermediate player. This club set does not offer anything unique or noteworthy. However, for novices, this is acceptable as long as you can hit straight shots. The Precise M5 men's club set is an excellent value for money when considering its beginner-friendliness, low price, and overall performance. It is more user-friendly due to the bigger clubheads and offset design of this set.
Although a few things such as a bag, a sand wedge, and a putter are missing in this set, we still believe it is of great value for beginners.
It is a regular graphite-shafted wood with 460cc and a large sweet spot, which may not provide a great deal of feel at impact but will get the ball down the fairway when hit correctly.
In the Pinemeadow set, the same can be said for the fairway wood and hybrid. Both clubs are preferable for starting golfers since they produce higher loft, which helps the inexperienced amateur increase their lift on the golf ball.
With a low profile but a boxier look, the hybrid is easily the best of the three woods, providing more energy behind the golf ball than the other two woods. The hybrid has the most consistent performance in this collection, whether played off the tee, in the rough, or from the fairway.
The irons at Pinemeadow begin with the 5-iron and go all the way down to the pitching wedge, with the 5-iron being the most common starting point. Each has a perimeter-weighted appearance and feel, which helps the beginner keep the ball relatively straight while making firm contact.
Each iron has a steel shaft, which gives it a heavier feel and allows for a slower swing speed. This could result in a minor difficulty that prevents the player from reaching their optimum driving distance for senior golfers.
If we had one significant issue about Pinemeadow's selection of irons, it would be that they did not include a sand wedge because we believe that one club is essential for all beginners to have in their bag. Lifting and landing the ball softly on the green is made considerably more accessible with a sand wedge, which is especially beneficial for new golfers.
Furthermore, the absence of a putter and a golf bag from this package means that the golfer will have to put in more effort to complete their collection and prepare ready for the course. However, at this price range, the Pinemeadow PGX Golf Set could serve as an excellent starting place for a beginner wishing to save money while learning the game.
Cobra has established itself as a top brand in the golf industry by manufacturing high-quality club sets, and this one is no exception. What we enjoy the most about this set is that you can customize it with steel or graphite shafts, as well as a regular or senior flex, which means that these clubs will work for everyone, regardless of whether they have a slow or quick swing speed. Because these clubs are light and have large, forgiving heads, we were impressed with the accuracy and distance with the driver, woods, and irons on the course. All in all, this is a comprehensive club set that is suitable for players of all skill levels, from beginners to professionals.
Well, in terms of pricing, Cobra Fly-XL is more expensive than the standard starter sets for beginners, but you get a lot more quality and value for your money with them.
This 12-piece club set includes a driver, 3-wood, 5-wood, 4 hybrid, 5 hybrid, irons (6+7+8+9+PW, SW), and a premium blade putter. The most powerful club in the set is the driver.
You may purchase the clubs in either left-handed or right-handed configurations, as well as a lady's set, which is slightly less expensive.
There is a 14-opening golf cart bag included with this purchase that will fit nicely on any pushcart, but you also get a shoulder strap in case you want to carry these clubs around with you.
In addition, there is a big ventilated beverage pocket that can accommodate up to 14 12-ounce cans, which is rather outstanding.
With this bag, you'll have 7 zipped pockets to store all of your golf balls and tees, as well as GPS devices and other equipment. You'll also receive 1 valuables pocket with velour lining to store valuables such as your phone and keys.
The 10.5-degree driver has an oversized head and is designed to provide distance and forgiveness for players of all skill levels, from beginners to advanced. With the light set, you will receive an enormous head with an 11.5-degree tilt.
In the driver, you have low back heel weighting, which enables you to gain more distance while also striking the ball as straight as you possibly can.
The driver works well and provides excellent distance; it also comes with an 11.5-degree loft in the lighter set, which makes it easy to achieve the height you require when you need it.
Also featuring enlarged heads for forgiveness, the lower back, and heel of the 3 and 5 woods have been weighted to ensure that you hit the ball with good precision on all of your swings.
Because they are made of graphite shafts and are lightweight, they allow you to generate a lot of speed in your swing and effortlessly lift the ball off the fairway with these beauties.
The 4 and 5 hybrids are the perfect bridge between the woods and the irons, and you'll be astonished at how easy it is to get good loft with these clubs because of the lower back weighting. You'll also be surprised at how quickly you can stop the ball on the green with these clubs.
High-quality, cavity-back irons are being designed for forgiveness, but they can also hit the ball a long way when used correctly. You have the option of choosing between graphite or steel shafts. Graphite shafts are lighter and more suited for players with slower swing rates, while steel shafts are more suited for fast swing speeds who want to hit the ball far, straight, and accurately.
The irons are also equipped with perimeter weighting, making them easier to launch and increasing forgiveness and stability on mishits while increasing distance and accuracy.
There is a range of iron lofts available, ranging from 24 degrees in the 6 Iron up to 55 degrees in the Sand wedge, among other things.
Lifting the ball out of the bunkers should be a piece of cake with the sand wedge thanks to its cavity back design, which provides improved forgiveness, as well as its perimeter weighting, which provides exceptional loft and superb control.
The Best Women's Golf Sets
The Callaway Strata 14-piece women's golf set is designed to help beginners hit the ball with confidence. If you are looking for a club that will provide you with the greatest amount of distance, the Women's Strata Complete Set is the club for you. When it comes to beginner lady golfers, the combination of distance, forgiveness and an easy hitting system makes this set stand out.
Driver, 5 Wood, 5 Hybrid, 6 to 9 Iron, PW & SW, Putter, Stand Bag, and 3 Headcovers will be included in this package. You will also receive a sand wedge as part of this package, which is a very welcome addition.
The driver and 5-wood are both equipped with graphite shafts that have large sweet spots. As a result, mishits are not penalized. You will receive clubs that are extremely lightweight and capable of producing the greatest amount of impact on hits.
The irons and sand wedge have perimeter-weighted club heads, which make it more difficult to hit difficult shots. You can use the Hybrid to hit shots that you aren't confident hitting with your irons, such as golf shots.
With a golf bag, you won't have to worry about transporting your golf clubs because you will receive a stand bag that can be carried with the help of the straps that are included in this set. Lady golfers will appreciate how easy it is to transport.
The fact that these clubs are designed to increase speed is the number one reason why they are ideal for beginner women golfers. This is necessary due to the fact that women swing at a slower rate than men. In addition, most men's clubs require a fast swing speed in order to perform at their best.
It is possible that you are a complete beginner or that you only play golf occasionally. It is reasonable to assume that you do not want to choose a club that is not geared toward beginners in this case. Wilson Women's Complete Golf Set is the ideal solution. It is intended for women who are new to the game of golf.
We do not recommend this to anyone who wishes to pursue a professional golf career, even if you are just getting started, due to the durability issues that some users have experienced with the product.
Your swing will be more comfortable, thanks to the lightweight graphite shaft. In addition to being lightweight, the clubs will provide you with more forgiveness on your tee shots.
A high lofted driver will provide you with more distance than a low lofted driver. If you want to increase the speed with which you swing the club, this driver will be ideal for you. It has a large sweet spot, which ensures that you will see an improvement in your ball flight.
Users are highly pleased with the bag because it is lightweight, durable, and has adjustable shoulder straps that allow for airflow. You'll also get a rigid handle top, numerous pockets, and a self-activating stand as a bonus.
Beginners are always looking for immediate feedback and accuracy that will aid them in improving their swing technique. This club provides you with superior feedback, an exceptional feel, and immediate feedback, among other things. As a result, you might consider this to be the ideal club set for you.
The Precise M5 Ladies Complete Golf Club Set is an excellent starter set for any young lady who wishes to learn the golf game without spending a significant amount of money upfront.
With its distinctive purple finish, this affordable set covers a lot of ground and will assist any beginner in putting on a show in style.
The M5 set, which comes with a dual-strap bag that makes it ideal for amateur tournaments, is an excellent choice for beginning golfers of any age group.
Even though beginners should concentrate on the fairway wood and hybrid when it comes time to learn the driver, the M5 set has a monster 460cc that performed admirably during our testing.
Exceptionally consistent through the golf ball, all three woods did an excellent job of achieving a nice ball height and moderate distance.
The M5 set includes irons ranging from the 5-iron to the pitching wedge in length. Again, it is disappointing that we have another complete set that does not include a sand wedge. While it is your responsibility to purchase one, the lower cost of the M5 set will more than make up for any additional costs in the future.
During our testing, the irons remained stable, thanks to their graphite shafts, which reduced vibrations and assisted in making solid contact with the golf ball during swings.
The M5 set is completed by a high-quality stand bag that perfectly matches the set's color scheme. Another standout item in addition to the bag was the wide mallet putter, with the soft insert encouraging the proper roll of the golf ball.
The Precise M5 Ladies Complete Golf Club Set is an excellent choice for the beginning golfer because it provides the necessary tools to improve your game.
Aspire PRO-X Ladies Complete Golf Clubs Set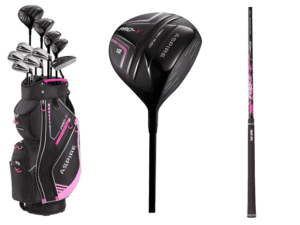 This is a trendy golf club set among ladies looking to improve their golfing abilities, this is a great choice. The most important reason for this set's widespread popularity is the use of the most up-to-date technology and features, which worked so well together to distinguish it from the competition.
Designed for golf beginners looking for a little extra assistance, the Aspire Pro-X golf club package includes everything you need. It includes all types of golf clubs, from drivers to putters, in one convenient package. For the sake of being more specific, this set includes one titanium f driver, three fairway woods, 4-5 hybrids, seven short irons, a putter, a cart bag, and four club head covers, among other things.
With this set of golf clubs, you will be able to take advantage of the most up-to-date golf technology. The aerodynamics of the wood design, the premium V6 ladies flex graphite shaft, and the Tour Pride grips, in short, everything that you could want in a new golf club, have been included in this set.
The performance and benefits derived from such features are extremely effective in obtaining the most out of the clubs' capabilities – the aerodynamic design results in increased head speed and a lower center of gravity. You'll benefit from a more consistent launch and distance across the entire face of the club.
Buying Guide For Beginner Golfers
Avoid spending a lot of money on pricey and high-end golf club sets
When it comes to expensive golf club sets, they are hard to refuse because they are jam-packed with the newest innovations and features. However, as a beginning, we do not recommend purchasing them, even if you have the financial means to do so.
You might consult with golf gurus and professionals, and every single one of them will advise you to begin with reasonably priced beginning-level clubs.
Beginners must practice frequently and engage in a great deal of experimenting to improve their skills. You don't want to ruin your pricey clubs by dropping them. And it's easy to say that you might even have to reduce your practice time to take care of your clubs.
The most common mistake is to think that professional clubs, in the beginning, can improve the performance of the game. Well, I have to assure you that the outcome will be the opposite. Professional clubs are equipped with various features and options that may prove challenging to navigate and leave you feeling irritated.
Beginner-level clubs are reasonably priced and will assist you in building your confidence by hitting hard and far from the target.
Select a clubhead size ranging from medium to large
As a novice, you should look for golf clubs with large clubheads that are easy to control because you will be receiving a more prominent sweet spot, which will allow you to be more forgiving when you make a mishit. And who doesn't make a few mistakes when they're just getting started?
We recommend drivers with displacements ranging from 450 to 460 cc. For beginners, this is a practical and tried-and-true driver head size range to start with.
We've broken down the distinctions between irons used by professionals and those that novices should use into four categories.
1. Professionals frequently choose shallow hollow backs and even plain blades. It would be best to choose a club with a deeper cavity back, which will add weight to the outside perimeter.
2. Professionals choose a club with a small sole, but a wide sole should be the first choice if you start playing golf. 
3. Professional golfers like a modest clubhead offset from the shaft of their clubs. Because you are a beginner, the offset in your clubs should be higher than it would be otherwise.
4. Professionals like a small-faced club with a narrow sweet spot because it gives them more control. Beginners should seek clubheads that are large to medium in size with a large sweet spot to allow for more leniency on mishits.
Graphite or steel shafts – what to choose? 
For you, as a beginner, the priority is to feel how to hit the ball faster and get more distance.
Graphite shafts are most often found in good beginner clubs because it makes them lightweight. This mainly applies to woods. 
Steel shafts do an excellent job for irons. However, I would recommend graphite shafts for beginners, but it is not critical. 
Estimate your swing speed realistic
It would be best if you were realistic about your capabilities in the beginning. Fley shaft is the best method to approach golf clubs in the beginning. Regular flex is highly suggested for beginning golfers who have an average swinging speed.
What are the most effective irons to learn to play golf?
Clubs with forged irons have the center of gravity in front of the club, and they have a narrower sweet spot. Professional golfers favor them because they hit hard and fast with little or no off-center. Forged irons are more rewarding for professionals. 
But for beginners, who hit with an offset and often make mistakes initially, it is better to choose cast irons. First, cast irons allow you to distribute the weight around the perimeter, and second, these clubs are very forgiving.