Golf balls might seem similar on the outside, but once you peel off their covers, you will realize that there are many differences offering different benefits for different types of golfers. Often, choosing the right and the best golf balls for beginners can be an overwhelming process since most people do not realize the differences that exist in the different brands and models.
Discovering the best beginner golf balls is essential for many high handicappers who are attempting to improve their game while also gaining an advantage on the course.
However, this guide will give a review of some beginner-friendly golf balls with the pros and cons of each, helping you to choose the one that can meet your golfing needs and help beginners.
Guide on 12 Best Golf Balls for Beginners
Srixon is a maker of the most popular golf balls, with their popular models being Q-STAR and Z-STAR designed for pros and golf amateurs. Srixon soft feel features a 71 overall compression. It is designed to look like a multi-layer model. It is a perfect option for golfers who have a swing speed of below 100mph. However, golfers with above 70 range can get full benefits such as minimal sidespin, improved distance, and higher launch. The ball is available in two colors; pure white and tour yellow.
Slower swingers can enjoy yardage boos with this ball, provided they are currently using a higher compression ball that does not match their specs. When we compared Srixon with other balls in its category or the competitors, we realized that its performance is average which is not a bad thing, although it is not exceptional. The most amazing and inspiring aspect of this ball is its great and high launch and accuracy.
Struggling golfers or the high handicapped with a problem to hit shots will also utilize this ball. This is because the ball carried long and nice despite its low spin qualities.
The balls go for $14.99 for a dozen of 15 balls, and if you go for a 24 balls pack, you will get it for $19.99. The balls are designed to be long and soft, thus deliver a high distance and a great feel. The balls are made with the company's proprietary 342 aerodynamic dimple design to help the balls achieve a longer carry. They can fly through the air and against winds quickly. Moreover, they are made of a very soft 34 compression core delivering an unparalleled feel and great distance to the player. They are amazing balls at an affordable price.
The balls are controllable around the greens and amazing upon impact. Since their compression core is lower, they are designed for slower swingers. They are the perfect choice for golfers who are looking for affordable, durable, increased spins around the greens and long-distance soft feel balls.
This ball is a two-piece and is designed for moderate swing golfers who are looking for quality golf gear. A dozen goes for $22.99, and it is available in three colors; yellow, classic white, and red. The thought behind the creation of this ball is that most players are not tour pros and would want to get great value and performance in their gear. This ball not only feels and looks great but delivers a quality golf experience.
The core is important for every golf ball, and Titleist has incorporated its technologies into building a faster core and low compression, which improves the distance. The balls also come with a patented TruFlex cover designed to deliver soft feel around the green, better spin, and improve green control. The TruFit aerodynamics technology incorporated into this ball's design offers a new asymmetrically optimized pattern and an enhanced game distance. The balls are much stable in winds and carry long compared to the models that came earlier.
This ball takes your golf game to another level as it improves the entire golfing experience. Bridgestone e6 are designed for golf players who seek to improve their performance with an affordable price. It features a three-piece design that comes with an anti-spin mantle, a surlyn made cover, and a proprietary soft gradational core from the company. The creators emphasized the importance of a soft feel on every shot taken hence the name. However, this did not compromise its great performance.
The balls come in a dozed worth $17.99 and are designed for golfers looking for ultimate distance and maximum ball flight. They have a softcore. It is available in two options and those are the traditional white option for clear visibility and optical yellow. Regardless of the color differences, these balls deliver similar performance. The balls are designed with two proprietary technologies that are the warbird core and the HEX aerodynamics. Usually, these balls have smaller cores, but Callaway has a larger core to provide high ball speed and maximize distance.
The larger core is also essential for promoting thinner covers and enhancing the feel while still maintaining performance in terms of tee speed and distance. HEX aerodynamics technology ensures that the penetrating distance and long ball flight are achieved. Moreover, it also improves the ball's low-speed lift hence stabilizing the ball trajectory. The best word to describe this ball is a modernized old-school distance ball.
This is the latest-gen launched by Callaway, and the good news is that they are available in oversized flavor. They come in two-piece construction with their ionomer cover being more oversized hence easy to hit than before. The balls are also designed to deliver tour-level spin and distance around the greens at the same time giving the player an amazingly soft feel. They are a good option for high handicap golfers because they appeal to slow swinging and improves the game experience. They are much larger compared to the normal balls, about 1.68" in diameter, to help struggling golf players make consistent contact.
Pinnacle has a history of producing golf gear and has a well-deserved reputation for their golf balls. In 2016, they produced two models of golf balls; Pinnacle rush and Pinnacle soft. Pinnacle Soft is longer but a bit softer than the generation of balls that came earlier. It is created using the Pinnacle proprietary ionomer cover technology and has a low compression core aimed at boosting the speed of the ball. Moreover, the low compression core helps minimize the ball spin. The icosahedral dimple construction used in building this ball enables it to deliver a penetrating flight.
These balls come in bright yellow and crisp white colors. They are a good option for beginners who want to improve their overall game experience. They are made of advanced two-piece construction, ensuring that the shot is accurate and the dimples offer maximum velocity. The core is made of titanium which ensures consistent swings. For handicapped individuals, this ball can add distance to your shot.
These balls are made of two layers that are the external layer and the core. These layers help the ball become softer and adds to the distance. It is a good option for those who want to get higher and longer proximity. The core is made of titanium which transfers electrical power from the nightclub sphere. The dimples are made of aerodynamics technology hence reducing the drag efficiency.
The balls are made of durable and strong materials. Also, the balls offer high distance performance, and their versatile natures keep the game with this ball strong. The high-energy core offers extreme distance performance. The cover offers an amazing feel. With a faster and larger Graphene-infused Dual SoftFast Core, the club is designed to go farther. The significantly larger inner core produces a higher launch and lower spin. It comes in different colors, including white, yellow, red & white truvis, stars and stripes truvis.
Srixon AD333 has been the number one selling two-piece ball in the USA and UK since 2006. A dozed is packed with 12 balls made of a thin cover. Also, the balls offer an energetic gradient growth core. The balls offer good quality and are a good option for the senior players. It gets more firm and strong from the center to the exterior, which increases the speed upon impact.
The Titleist Velocity golf balls have undergone significant changes from the previous year's model. The new ball will fly higher on all shots, have lower spin rates, and provide an excellent feel on shorter shots and putts, among other improvements.
For all-around performance, Titleist has used a softer, high-speed core known as LSX and a faster cover called NAZ+, which work together to produce high ball speeds for increased distance when combined with low spin rates and higher ball flight in increased distance.
This new NAZ+ cover will provide an excellent feel while generating generous amounts of greenside spin to aid in shot control and control on the green.
328 tetrahedral dimples in a spherical shape provide a high, stable ball flight on all shots, resulting in increased accuracy and distance.
• Longer distance
• Extremely lower spin
• High-flying and all-out shots
• A playable short game experience
Fast initial velocity for long downrange distance on all full swing shots thanks to the softer, high-speed LSX core produced by the softer, high-speed LSX core. It feels like a short game that can be played.
The new NAZ+ cover provides the following benefits: increased ball speed for greater distance. The long game spin is at an all-time low.
Flight optimization has been implemented. The 328 tetrahedral dimple design, which is spherically tiled, ensures Excellent flight on all shots. Carry distance is increased.
FAQ About Golf Balls for Beginners
What are the Best for Beginners: Urethane or Ionomer Balls?
Most of the best golf balls are covered with urethane, which is a type of polymer. Urethane improves the grip of your golf club by allowing the grooves to grip the golf ball more effectively.
Due to the durability of urethane and its ability to perform well under high temperatures, this material is the preferred choice for the design of high-quality golf balls. The 336 dimples on golf ball are formed by a thin layer of Urethane that is applied to the surface of the ball.
Golf balls that are less expensive, on the other hand, are typically made of a material known as ionomer. Ionomer golf balls are not necessarily a bad idea, but they have a softer feel and are less durable than Urethane balls.
You may find that using Ionomer-made balls can actually be beneficial if you are a beginner who is having trouble with too much spin. Balls with an Ionomer cover will produce less side spin and, as a result, will allow a beginner to hit the ball further distance.
How Many Layers of a Golf Ball is Good for Beginner?
Several layers surround the inner core of a golf ball. There is a relationship between the number of layers in a ball and the overall durability and trajectory of the ball. Amateur players are more likely to use 1 or 2 piece golf balls, whereas professional players are more likely to use 3 or 4 piece golf balls.
Each type of ball has a unique set of characteristics that influence its use and overall performance.
1-Piece Golf Ball
1-piece golf balls do not have a core or a cover like traditional golf balls. In place of that, they are constructed of a single solid material known as Surlyn. Because this is the most inexpensive golf ball to manufacture, it is commonly found on mini-golf courses and driving ranges.
This type of ball is extremely rare to come across on a real golf course, as there are numerous better alternatives available.
Surlyn balls are completely indestructible, so there is no concern about the durability in this case. The issue arises as a result of their low compression, which makes hitting long distances difficult.
2-Piece Golf Ball
Urethane or plastic covers are typically used on 2-piece balls because they have a core and a cover made of the same material. These balls are the most popular among golfers of all skill levels.
When you play with these balls, you'll notice that they have a much firmer feel to them. Because of the firmer construction, you will hit the ball at least 20 yards further. When you use a harder ball, you will lose some control over your shots, but a 2-piece is the best option for the average golfer.
These balls are handy when trying to hit long distances because they assist the ball in gaining velocity more quickly after impact. If you have a slow swinging style, a 2-piece ball may be the best option for you to consider.
3-Piece Golf Ball
3-piece balls are made up of a core, a mantle, and an outer layer. These balls provide their users with excellent performance and control. The user will benefit from the soft feel because it provides some degree of forgiveness and improved control.
These are the entry-level balls that produce more spin for golfers because of their 3-piece construction. It is anticipated that the additional layer will result in noticeable spin separation.
You can try this ball if you have been playing golf for at least one year at this point. If you're a beginner, I'd recommend sticking with the two-piece design.
4-Piece Golf Ball
Professional players commonly use balls with a dual-core design, and 4-piece balls are no exception. They are capable of producing a low initial speed and are well-known for their accuracy. Those who swing with great speed and those who have been playing for a long time will find it to be a fantastic option.
The 4-piece ball is constructed impressively. The four layers all work together to create the softest golf ball possible, one that travels the most significant possible distance.
Looking inside a 4-piece golf ball reveals an additional layer not generally found on a golf ball. This later addition is referred to as the middle cover, and it aids in creating extra distance when driving from the tee box.
This ball is finished with an outer Urethane layer, which provides the ball with a softer feel than the inner layer.
Main Characheristics of the Golf Balls for Beginners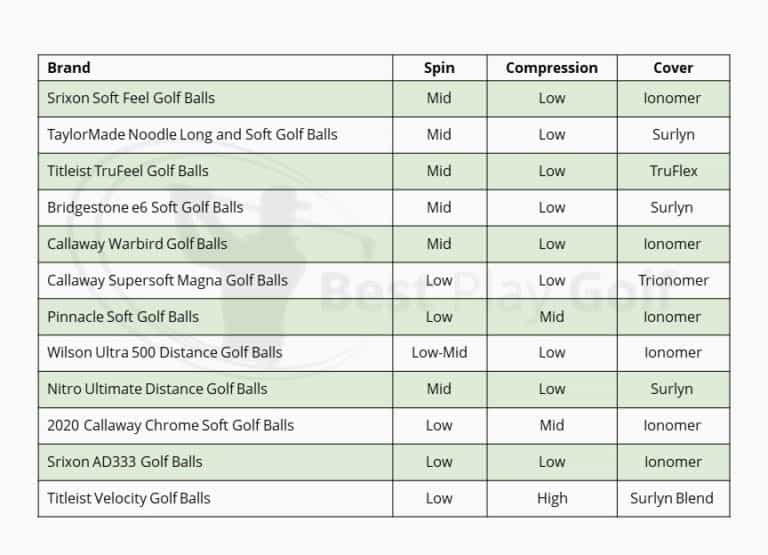 7 Best Golf Clubs Under $500
Have you just started playing golf and aren't quite sure it's your game yet? But nevertheless you still need golf clubs, and they are expensive, or you are not ready to spend thousands of dollars on famous brands? Believe me, there are many brands in the golf club market that offer really high quality golf […]
6 Best Winter Golf Shoes for Men in 2023
If you don't stop playing golf in late fall and winter, you need to think about good winter golf shoes. Water resistance and good grip are the first things to consider when choosing winter golf shoes. Also, it is advisable to give preference to high models, reaching up to the ankle. This is especially true […]
5 Best Mizuno Irons of 2023
I'm happy to make a review of the Best Mizuno Irons of 2023. Mizuno is a manufacturer of really high quality sport goods. The logo of the brand is recognized all over the world. The company pays special attention to golf products. And no wonder that the golf clubs from Mizuno are a masterpiece. Let's […]