For golfers of all skill levels who want to get the most out of their long games, finding the best fairway wood to fit their needs can be challenging. Whether it's approach shots into longer par 4's and par 3's, going after par 5's in two, or simply trying to hit more fairways off the tee, finding the best fairway wood is critical.
When we look at the best fairway wood playing field for 2022, we can see that there are plenty of fairway wood options available from each brand. The number of models available for a single-player type has been increased from one to three, and in some cases, four, to accommodate different player types. Using revolutionary technology and construction processes, these new fairway woods outperform their predecessors in terms of speed and distance while also providing unprecedented levels of forgiving performance. It's now easier than ever to choose the ideal one for you based on your swing characteristics.
8 Best Fairway Woods of 2022
LOFT: 15° | 16.5° | 18° | 21°| 24°
NUMBER: 3, 3HL, 5, 7, 9
LAUNCH: High
SPIN: Mid-Low
The SIM2, SIM2 Max, and SIM2 D-Type fairway woods are the three models available in the SIM2 fairway wood family. In 2021 , TaylorMade brought back the iconic V-Steel design for the SIM models.
TaylorMade fairways and hybrids have been at the top of the tree when it comes to speed and power for several years now, and they will continue to be so. As a result, it shouldn't come as a surprise that the TaylorMade SIM2 Max had the longest fairway of the year. For golfers with a higher handicap, the SIM2 Max has a slightly larger head than the SIM2.
The SIM2 Max driver has a traditional 15-degree loft and is equipped with TaylorMade's Twist Face technology, which was first introduced in the M3 and M4 driver series and is designed to reduce the effect of off-center shots in the toe and heel. Being able to raise the loft of your fairway woods means you'll gain more height and, consequently, more stopping power when hitting shots into the green with your fairway woods.
The TaylorMade SIM2 Max Fairway is not only mighty but is also highly forgiving. This fairway wood dropped only 2.4 percent more carry distance between good and bad strikes than the most forgiving fairway wood of the year and 6.3 percent less distance than the least forgiving fairway wood.
Its slightly larger footprint than TaylorMade SIM2 Titanium gives it a more confident appearance, adding to its confidence-inspiring appearance. It's visually appealing, and it sounds good, too.
The SIM2 D-Type fairway wood is an excellent choice for golfers who tend to slice the ball off the tee. The D-Type has a strategically placed internal heel-bias weight, which makes a face appear more open while also assisting golfers in closing the face at impact, all with the help of Twist Face technology, which is also included.
✅ V Steel's turf interaction and versatility benefits
✅ Twist Face technology
✅ Ultra strong steel face
✅ Speed pocket technology
✅ Fujikura shafts (pemium quality)
❌ Fixed hosel provides less chance for adjustability
LOFT: 14.5° | 17.5° | 20.5° | 23.5°
NUMBER: 3, 5, 7, 9
SPIN: Low
BEST FOR: Distance and Accuracy
Ping is well-known for producing extremely forgiving clubs, and the Ping G425 Max fairway wood is no exception.
The Ping G425 Max performed admirably in Neil's preferred Mitsubishi Tensei Orange shaft, finishing fourth in protecting spin difference between shots. More importantly, it finished just 0.2 percent behind the club with the lowest carry distance drop-off, which is precisely the type of additional consistency Ping is claiming to have achieved.
Because it has a flatter sole than most other fairway woods, Ping G425 Max has a lower profile head and less face height, all of which combine to create an amiable and confidence-inspiring appearance when you first put it together.
Apart from the head design, the ability to adjust the hosel on the G425 Max fairways is another feature that contributes to their forgiving nature. It is possible to play a flatter lie for shorter players who tend to hit lower-flying shots to the left or add some loft and close the lie up to assist with a fade.
Ping's new face shape is exceptionally beneficial to golfers who have difficulty hitting their fairway woods off the tee and frequently come up short, which is traditionally caused by too much spin on their shots.
It's the perfect tweener size in terms of being large enough to inspire confidence while still offering something that you are not afraid to hit from the deck.
✅ Excellent look
✅ Compact head shape
✅ Extremely forgiving
✅ Stable
✅ Spinsistency 
❌ Some golfers can find it not  as long as other brands
LOFT: 13.5° | 15° | 18° | 20° | 23° | 25° 
NUMBER: 3+, 3, 5, HEAVENWOOD, 7, 9, 11
LAUNCH: High
SPIN: Mid-High
BEST FOR: Forgiveness
Epic Speed has nearly twice the carry distance drop-off (from 25 yards to 13 yards) , indicating that the Epic Max is the model most Callaway fans should find interesting.
The Callaway Epic Max head is larger all-around than the Epic Speed, and golfers can customize their launch and ball flight with 14g and 2g sole weights, depending on how they want to see the ball flight. Extra forward mass proved to be an excellent choice for Neil, as it resulted in an increase of seven yards in carrying distance.
Weight shifting to the rear of the swing provided an additional 600 RPM of backspin and an additional three yards in height, in addition to a steeper descent angle, which helped hold shots in the air for longer periods, allowing for longer carry distances.
The high and stable ball flight of the Epic Max fairway wood carries over from the driver's characteristics to the fairway wood.
In particular, it excels lower on the face, where many golfers miss, and closer to the heel and toe, where many other clubs fail to deliver.
If you require higher flight but want to keep spin to a minimum while using a larger and more game-improvement style fairway wood, the Max with the heavyweight upfront is the fairway wood for you.
✅ Prety long 
✅ Easy to hit including off the deck
✅ Consistent feel at impact
✅ Very forgiving due to the flatter sole
❌ No hosel adjustability
❌ Expensive
TSi2
LOFT: 13.5° | 15° | 16.5° | 18° | 21°
LAUNCH: High
SPIN: Low
PERFORMANCE: Forgiving
BEST FOR: Speed and Accuracy
TSi3
LOFT: 13.5° | 15° | 16.5° | 18° 
LAUNCH: Mid
SPIN: Low
PERFORMANCE: Workable
BEST FOR: Precise control over CG placement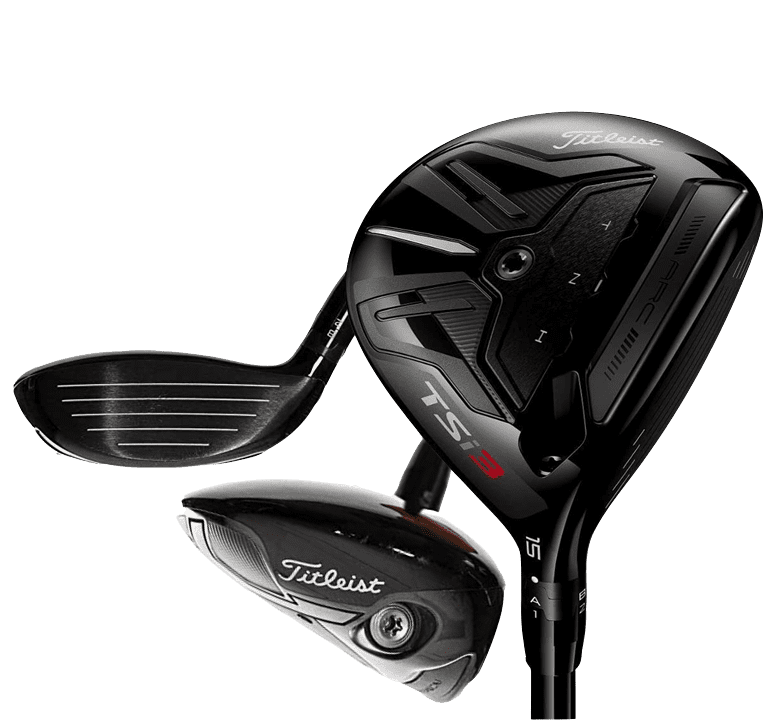 Titleist TSi2 and Titleist TSi3 fairway woods are made even faster and easier to hit thanks to their freshly built face, which has an ARC of 4.0, as well as their lower center of gravity position. These irons are designed with a rounded front leading edge that allows you to get beneath the ball from any lie, and the rear weight can be adjusted to match your preferred feel.
The Titleist can be your favorite fairway putter. With its adjustable and functional handle, it's a great way to start a fitting. In particular, if you frequently utilize your fairway wood out of the rough, the rounded leading edge and sole are handy.
Since it is shallow and easy to elevate, it is a very functional and forgiving head. Higher handicappers who have been wary of Titleist because they believe they aren't forgiving enough will find that the TSi2 completely defies that reputation the first time they hit it.
Because of the club's deeper and lower fixed center of gravity, TSi2 gives maximum distance and forgiveness while maintaining speed and accuracy across the club's entire face. There's also an adjustable swing weight and a SureFit hosel, which allows you to customize the club to your specific needs.
TSi3 features a narrower profile and a deeper face than TSi2. Consistent ball strikers who want to work the ball and have exact control over where the center of gravity is placed would benefit from this product.
The SureFit CG Track from Titleist has three settings that allow the fairway wood's center of gravity to be easily adjusted from neutral to a toe or heel bias for fine-tuning performance. After adjustment, the updated track design allows the 12g weight to disappear into the club's sole due to the improved track design.
✅ Adjustable swing weight and CG
✅ Lightweight frame
✅ Taller ARC 3.0
❌ Lacks off-center forgiveness
LOFT: 13.0° | 13.5° | 13.5° Draw | 14.5° | 14.5° Draw | 15.5°  | 15.5° Draw | 16.0°
NUMBER: 3W
SPIN: Law
LAUNCH: Mid-Low
BEST FOR: Speed and Distance
If you're the type of player who has above-average swing speed and hits a lot of fairway woods off the tee, you can be sure that the Cobra Radspeed Big Tour will do an outstanding job of accommodating your needs. Keep in mind that anyone considering the model will require massive levels of club speed to successfully launch this low and forward CG fairway from the tee or the grass.
Because it is a tour-level product, the Cobra Radspeed Big Tour's head is comfortable to hold at address, and despite its name, it is not actually that large.
The Big Tour's sole rails are nearly non-existent compared to the ordinary Cobra Radspeed, which will please anyone who has tried Cobra fairway woods in the past and hasn't been a big lover of them.
The Cobra Radspeed Big Tour was the equal fourth-longest fairway wood of the year in the hands of our test pro, and it only shed four yards more carry distance than the most forgiving fairway wood in the test. When you put all of this together, we believe the Cobra Radspeed Big Tour will be a solid performance in the hands of players with quick swing speeds.
✅ Baffler rails help with turf contact, particularly in bad lies
✅ There are four models to choose from, one for each player
❌ Improvements over the previous generation are limited
LOFT: 15° | 16.5° | 18° | 21°
NUMBER: 3, 4, 5, 7
LAUNCH: Mid
BEST FOR: Forgiveness and Speed
Logic has been developed for why a channel in the sole is necessary to improve the way the face flexes. Honma, on the other hand, rethought the entire function of the slot. The toe side of this channel is shaped like a crankshaft, rather than a straight slot from heel to toe like the heel side of the channel does.
When you come to this portion, the slot goes broader and deeper to give you an extra boost in areas where the face needs a little extra assistance transmitting energy to the ball. The shape also aids in the arcing back toward the center of toe hits. This is only one example of how to make your most challenging moments more bearable.
Aside from that, there's the light and thin crown, which is made of titanium rather than carbon fiber and is thinner than the lead of a mechanical pencil in thickness. Because of titanium's increased rigidity, it is believed that more flexing will be concentrated in the facial region. Meanwhile, outside of the slot, there's more assistance on the sole for mis-hits than you might expect.
With the addition of a tungsten weight chip, the center of gravity is lowered, increasing stability, and the chip's positioning near the heel makes it easier to close the face. To achieve more consistent performance, the rotating hosel can adjust loft, lie, and face angle while leaving the shaft's orientation the same.
✅ Stronger flight for tee shots
✅Hosel can be adjusted to fine-tune launch conditions
✅ Optimal flip slot technology for reduced spin
❌ To make the most of this, you'll need to be an experienced golfer
LOFT: 13.5° |  15° | 18° | 21°
NUMBER: 3+, 3, 5, 7
LAUNCH: Low-Mid
SPIN: Low
PERFORMANCE: WORKABLE
BEST FOR: Speed and Distance
The Srixon ZX fairway woods are designed to send the ball high and with minimal spin, allowing for maximum carry distance. Ideal for navigating hazards or completing those problematic par 5s in two strokes.
With their prior woods, Srixon has had recent success in terms of sound and feel, and it appears that they didn't go too far from that accomplishment while designing the ZX. Shots that are well struck explode off the face and have a muffled, metallic sound that is exceedingly mild. Off-center images provide a little more information. The heel and toe aren't as supple as the middle, but they aren't as harsh as the center.
Default HZRDUS Smoke shaft makes the club light and easy to control.
The ZX fairway raises the bar for a low spin to an entirely new level.
The ability to launch the ball high and long while maintaining control of the ball on the green is the real strength of this club. Although it is a bomber, this FW is most likely best suited for golfers who require a higher ball flight and use their woods on par 5s and longer par 4.
The other target golfer is the one who has difficulty with a sharp angle of attack and so requires less spin on the ball. ZX may help golfers minimize spin and make their woods longer.
✅ With this club, you won't have to work for distance
✅ Great design
✅ Rebound Frame is faster on every strike
LOFT: 15° | 18°
NUMBER: 3, 5
SPIN: Low
BEST FOR: Stability
This year's ST-Z fairway wood from Mizuno is a standout performer on the golf course. It is designed to provide a unique low spin and stability that is not typically found in most fairway woods. This fairway is a throwback in design but delivers modern performance, making it a fairway for the modern era.
The Mizuno ST-Z fairway wood starts with a clubface made of MAS1C maraging steel, high-performance steel. This is the third generation of the MAS1C, and it is even more potent than the first. It is so powerful that Mizuno can make the face of the fairway wood thinner, resulting in the hottest face ever produced on a Mizuno fairway wood. The CORTECH face, which has multiple thicknesses, increases ball speed to or near the legal limit across the entire club face.
On top of the club, Mizuno added an ultra-lightweight carbon crown to make it even more aerodynamic. The lightweight carbon crown contributes to a lower center of gravity, which results in improved spin and high moment of inertia performance.
In addition, the Wave soleplate on the ST-Z fairway has been optimized. On the lower portion of the face of shots, the lighter sole design incorporates a more compact Wave structure, which is more forgiving and faster.
Most golfers will find the Mizuno ST-Z fairway wood to be a good match for their swing. Thanks to its high MOI performance, a slightly oversized club head launches the ball high and fast, instilling confidence at address. This club also includes a classic fairway wood design with low spin, ideal for players who swing faster. In the ST-Z fairway, golfers of all skill levels can take advantage of the technology.
✅ For the first time in a Mizuno fairway wood, the hosel may be adjusted
✅The crown is simple and traditional, with carbon fiber accents
❌ Model options are very limited
What

 

is

 

fairway

 

wood

?
Fairway wood is a long stick with a low center of gravity and a height ranging from 13 to 22 degrees. This type of club uses a graphite rod to reduce their weight. Golfers use the FW for tee shots or long range on the fairway.

When to use a fairway wood?
There is no specific purpose for use. It depends on the player. Some use them to reach long par 5s or from a tight tee (in which case the fairway wood is used for more control). Others use them for chip shots behind the green.

What is the difference between fairway wood and hybrid?
Fairway woods have a lower center of gravity due to the extended club head than hybrids. Hybrids, on the other hand, are used for a steep downhill angle at impact, so they are used to replace long irons.