Choosing the right hybrid for your game can significantly improve your results. But there are several factors to consider before choosing one.
2022 will see the continued growth of hybrid options from every manufacturer, with models designed to serve golfers of all skill levels and clubhead speeds, to the point where some manufacturers will continue to offer models with lofts that are equivalent to 8-iron replacement lofts and below. These hybrids use advanced technology and manufacturing techniques to run golf balls higher, faster, and farther while also providing forgiving performance. Finding the perfect one that compliments your swing and fits into your set is now easier than ever.
See all the new hybrids we reviewed below to understand better everything you need to know about finding the best golf hybrids for your game.
If you want to play the best hybrid for your game, look for the one that will give you the best opportunity to score and save shots throughout your round of golf.
You should think of your club set as a toolbox with 14 different tools in it. It is essential to ensure that each tool has a clearly defined function to make moving around the course as stress-free as possible for participants. It is important to note that hybrids play a vital role in this process.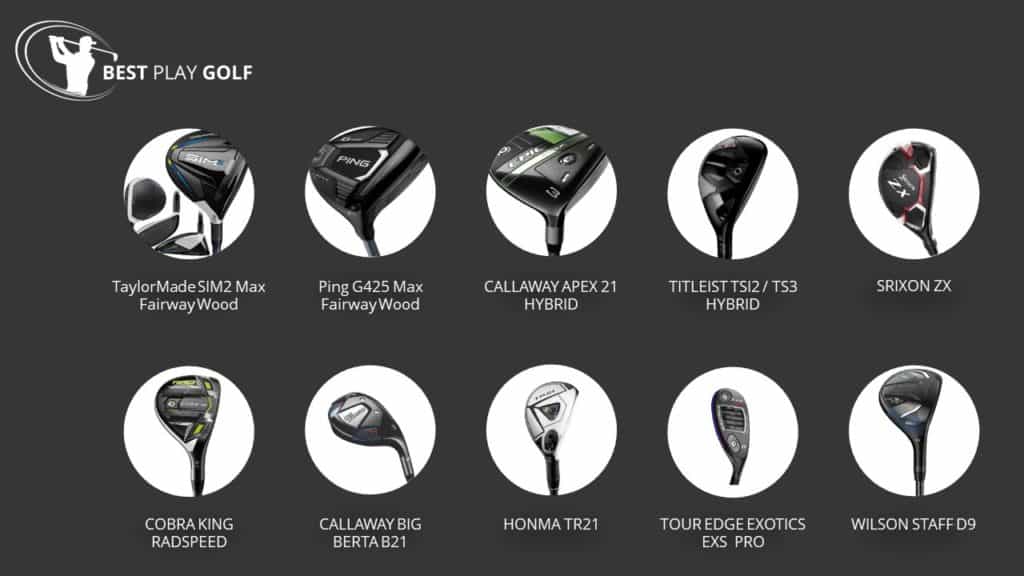 Ping G425 hybrid uses a thin, martensitic-steel surface to create high ball speed. This time it is part of Ping's new Facewrap design and is overlaid on the crown and sole to provide easy golf ball launching and greater distance.
Spinsistency in Ping G425, which is also new for 2021, means that players can expect significantly more consistent spin rates on shots struck out the bottom of the clubhead due to the improved roll profile of the clubface.
The alignment aid has been improved, with three dots on the crown-making it simple to line the ball up out of the center. And, as with other Ping products, the feel off the face is excellent, and it's effortless to hit, making it a club we would suggest for amateur golfers.
You can get this hybrid in lofts ranging from 17 degrees to 19 degrees, 22 degrees to 26 degrees, 30 degrees to 34 degrees, and each loft may be adjusted by up to 1.5 degrees. 
Even though we found it a little more challenging to fly low compared to some other models, it is so forgiving and easy to fly that it is unquestionably one of the best hybrids on the market.
Everything golfers enjoyed about the previous TaylorMade SIM2 hybrid is included in the new SIM2 Max Rescue hybrid, which has a newly improved sole geometry that increases forgiveness while also delivering more consistent performance. In addition to having a C300 maraging steel face, TaylorMade SIM2 Max Rescue also includes the now-familiar Twist Face, which was first introduced into the Rescue range this past year.
The rounded leading edge and V-Steel sole of the hybrid are incredibly beneficial to players who use their hybrid outside the ruff to move the ball as far as possible.
Because of the somewhat upright lie angle and internal weighting, TaylorMade SIM2 Max is ever so slightly draw-biased, which helps to reduce right misses and get the ball in the air more rapidly on the right side.
Additionally, via the correct technologies Twist Face and Speed Pocket, golfers will be able to experience explosive ball speeds even when striking the ball off-center.
Another outstanding aspect of this club is that it is available in a wide range of lofts, lengths, and lie configurations.
Although the hosel is not adjustable, right-handed golfers can purchase this club in five various lofts: 19°, 22°, 25°, 28°, and 31°. Each loft choice is the appropriate length and comes with the appropriate lie setting, allowing it to fit smoothly into the bag.
We were so impressed with this club that we included it in our list of the most forgiving hybrids available.
In recent years, Callaway has had tremendous success not only with hybrids but also with drivers and fairway woods. This year, Callaway released two hybrid models, the Callaway Apex and the Apex Pro. The most major update is the jailbreak technology. Otherwise, Callaway Apex Hybrid is equipped with the same features as its predecessors that were quite successful since 2016. That's why we think it's a worthy model to be on the 2021 and 2022 best hybrids list until the company wows us with new releases.
The Jailbreak Velocity Blades in this model are more spaced and angled using Artificial Intelligence. These upgrades helped to achieve more forgiveness across the entire surface and more speed at the bottom of the stick. This will undoubtedly be a great feature for golfers who often make mistakes on strokes.
To reduce the center of gravity (CG) and create a club that promotes great launch and forgiveness, tungsten weight has been strategically placed in each of the available lofts.
Callaway Apex Pro hybrid is intended for lower-handicap players who like a more iron-like appearance.
Titleist TSi2 (and TSi3) hybrids have a forged carpenter 455 steel surface that enables the designers to cut down on the weight and then reposition it to enhance the performance of each model. It is crucial to consider the amount of design separation that has been achieved.
The TSi2 is a hybrid that has been designed with the ideal balance of increasing forgiveness while still providing the ability to play for golfers who have a lower CG and a more shallow approach to the ball. Of all the Titleist hybrids, you can now target your choices by size that defers TSi1 as the largest hybrid, TSi2 as the medium size, and TSi3 as one of the most miniature hybrids ever made by Titleist.
Titleist TSi2 also has a low and a deeper CG to help create better performance for players who require it.
The combination of shafts and lofts makes are versatile. It is possible to get anything from heavy hybrid tour-level shafts to light and smooth ones that shrink dispersion or, indeed, make it a rocket.
Titleist's SureFit liner sets these hybrids apart from other manufacturers and works for golfers of all skill levels.
Srixon has introduced new technology for the latest sloped frame, which provides efficient energy flow to the hybrid ZX model. The face and the body have been specifically designed to expand upon the point of impact and snapback offers a powerful force transfer.
Srixon has played with crown steps for fairway, driver and hybrids for several years. Srixon says they have developed a technology that shifts the center of gravity downwards and raises the MOI overall, giving you extra launch along with increased distance and forgiveness. It can lead to a better shot-to-shot consistency.
We assume that this hybrid is great to make shots higher off the grass with additional assistance in keeping shots in play off the tee.
Since January of this year, we've already watched Brooks Koepka when he started playing with Srixon forged irons. In November, Koepka has signed with Srixon and we think Srixon Woods and Hybrids won't go unnoticed in 2022 either.
"I am very excited to join my good friends Shane Lowry, Graeme McDowell and Hideki Matsuyama as a Srixon and Cleveland Golf Tour Staff member," said Brooks Koepka.
Srixon ZX Hybrid is more suitable for fairly steady ball-strikers due to its tiny head. This type of head is ideal for navigating through the rough or nipping balls off the surface of the sand of the fairway bunker with a low-lipped lip. ZX can put you on the course with the top from tee to fairway and at par 3.
The Cobra Radspeed can be singled out from golf clubs because of its versatility, range, and relatively low cost.
When hitting from the ground, it will be appreciated by players with a high handicap who often have difficulty with these strokes. It handles the ball well, it's easy to level, plus you can see the face clearly with this model.
Cobra's legendary Baffler Rails are still in use, but these days they are hollow split rails that allow them to stretch 70% more to increase ball flight speed.
This is a unique and beneficial technology Cobra has successfully used for several generations of hybrids. It helps make Radspeed as easy to drive from the fairway from an uneven surface.
Radspeed has a feature called Radial Weighting (RAD) when Cobra strategically places the weight to the center of gravity (CG) to maximize speed, forgiveness, and flight direction off the fairway or the tee.
This Radspeed hybrid also had the most extended range, with a 19deg loft that averaged 221 yards compared to most of the best hybrid golf clubs released this year.
The shaft on the Radspeed may be a bit longer than the other hybrids, which may be the reason for the increased club head speed, but that doesn't mean it's harder to control, and the extra few yards proved to be very useful on the course.
Cobra Connect technology allows us to experience an artificial intelligence platform powered by Arccos Golf that will assist you in making better decisions, improving performance and shooting lower scores.
While designing this hybrid, Callaway has tried to incorporate all the best features of previous hybrid models that have improved the game, combined with the latest Super Hybrid. The B-21 hybrids make a significant impact, right down to the 8-iron hybrid.
The most important innovation that has been brought to the Super Hybrid is the tungsten MIM (metal injection-molded) weights, which are strategically placed in the toe and heel of each club and designed for head and loft weight. It can set up to 70g, which is over thirty percent of the head weight (depending on the loft) around the perimeter to increase MOI and raise the launch. This also impacts landing at a greater inclination, which means more stopping power.
Lofts that are higher in this club helps golfers who have lost speed and need help getting their medium irons up in the air.
Max forgiveness hybrids need to be stable as they will be used around the course. Stability around the face is an area where the B-21 can help.
TR21 hybrid is equipped with the "non rotating system" that allows you to alter the head's loft, lie, and face location without rotating the shaft. This TR21 hybrid is also equipped with a single screw for weight. It comes with 12g of weight, but you can change it at any moment using the TR20 weight set. The main benefit is that you can alter the head's weight and thus the weight of your swing within a matter of minutes. This is particularly crucial if you would like your shaft shorter or longer or if you're looking for a grip that's thicker like.
TR21 Hybrid TR21 Hybrid is designed to be as heavy as is possible in the lower portion of the head. This helps in launching. The TR21 hybrid's shin face is made of different thicknesses, which means that the ball's speed is kept high across the entire clubface while hitting.
As is the norm, the TR21 hybrid comes in the famous Vizard shafts. The Vizard TR21UT with 65g and the Vizard UT-H ranges between 75g and 103g. This shaft was designed to provide the highest launch, and as UT-9 or UT-H10, it is designed for players who have high clubhead speeds.
TR21 blades are specifically designed for a high spin and low launch. They are specifically designed for those who don't typically struggle with low launches but already have enough spin.
The most significant change is in the head's shape and the slimmer sole. This means it is much simpler to go through semi-rough terrains that are unfavorable to this hybrid.
TR21 hybrid is an excellent choice for those seeking a simple hybrid to play with no false claims. It can also be utilized as a driving iron from the tee and allows for maximum flexibility with regard to the loft and swing weight.
Remarkably, there is no other hybrid, so simple to adjust the head weight and the tilt, lie and face position without twisting the shaft. If you're looking to optimize your hybrid there isn't any better than the TR21.
Tour Edge EXS Pro hybrid is different in construction from traditional hybrids. The rare hybrids that use titanium faces are since the smaller face isn't always able to see the huge gains of titanium, which is more costly.
This Tour Edge EXS Pro hybrid is constructed from scratch for the most skilled golfer. The weights are placed on the corners to provide stability. However, this does not necessarily aid in lifting. The natural swing has to generate the launch. Those corner weights decrease spin and help create the neutral flight if it does.
It also has modified slipstream soles that help in sole interaction and airflow around your sole golf club. It's another technology that Tour Edge has used for some time that works.
This Tour Edge EXS Pro hybrid is available with the Mitsubishi Tensei AV Silver shaft. The shaft is excellent and provides a powerful launch and low spin. It's on the sturdy side for control but can also allow the more aggressive golfer to attack the ball confidently. Tour Edge enables the golfer to adjust the height by offering every loft between 16 and 22 in increments of 1 degree. While other clubs do this with adjustable fittings, the glued one permits even more precise tolerances and better weight distribution.
There's nothing like the sense of confidence when you play with clubs that feel and look perfect. Wilson's hybrids are stylish, with attractive design and balanced weighting. This positive first impression proved to be a good foundation. D9 hybrids deliver high-launch and easily powerful shots.
Relying on computer modeling and artificial intelligence, Wilson designers were able to test many design possibilities. The D9 hybrids, like the drivers and fairway woods in the same line, have edges of varying thickness and maximum forgiveness.
Wilson Staff D9 is designed to be an all-in-one golf club for those who value ease of distance and lots of forgiveness.
Performance-wise it appears that the D9 is a bit disappointing in the overall carrying aspect due to the head's 19-degree angle providing just 211 yards of run in all – which puts it at the bottom of our ranking compared to other hybrids that were launched this year.
This high spin model is aimed at slower and higher handicap golfers.
The D9 produced the highest turn of all hybrids we tried this year, making it an excellent choice to play greens approaching from a distance. It also has plenty of stopping power. This makes it ideal for long par 3s as well.
Wilson makes this hybrid available in six lofts ranging from 17deg 2 hybrid down to a 31deg hybrid suited to golfers looking for something to replace fairway wood, all the way down to a 7 or 6-iron.
At this point, it's a great choice if you're looking to purchase multiple hybrids.
What is the purpose of a hybrid golf club?
When it comes to addressing this issue, there are two distinct advantages to using a hybrid vehicle.
The most beneficial aspect of a hybrid is that it combines the best features of both a fairway wood and a long iron into a single, convenient club. They make it easier for players to get the ball into the air and help close the gap between woods and irons in terms of distance gapping between shots.
Hybrids are constructed with significantly more perimeter weighing, which is made possible because the heads are significantly larger. A lower and deeper center of gravity, which stimulates a greater launch, is also made possible by the hollow design, which makes it much more adaptable from difficult lying positions.
Therefore, for the average golfer susceptible to mishits and drives that end up in the rough, a hybrid can be extremely useful in regaining position.
Another significant advantage of the hybrid is its adaptability. Non-traditional golf hybrids can be used to assist in the rough, from the fairway, and off the tee, but they can also be utilized to assist around the green.
What is the difference between a hybrid and a rescue? 
There is little difference between a hybrid and a rescue club, as a rescue club is essentially the TaylorMade version of a hybrid in terms of performance.
What is the difference between an iron and a fairway wood?
Because they are intended to bridge the gap between woods and irons, hybrids are typically a little smaller than fairway woods in clubhead size and shaft length. Because of their lower center of gravity and denser head design, hybrids are generally easier to hit than woods, which is a good thing.
We've discovered that many players also swing hybrids like irons and don't strive to swing them as quickly as they do fairway woods, whereas they do with fairway woods.
When should I use hybrids?
If you use numerous long irons and have difficulty hitting them, a hybrid might undoubtedly assist cover these gaps in your bag. Alternatively, if you are not happy with your five-wood, many hybrids have lofts similar to them and can be used to replace them.
This Can Be Interesting For You: