Callaway Golf is one of the best-known golf brands, having been producing high-quality golf equipment for decades. The quality of Callaway is also appreciated by professional golfers, in their bags you can often find a variety of clubs from this trusted manufacturer.
Here we present the best Callaway irons 2023, which will be a perfect addition to your golf bag.
If you're already a Callaway fan and just struggle with your choice of one or the other, we hope this review will help you decide which iron fits your needs based on your golfing experience and area where you're looking to improve your game.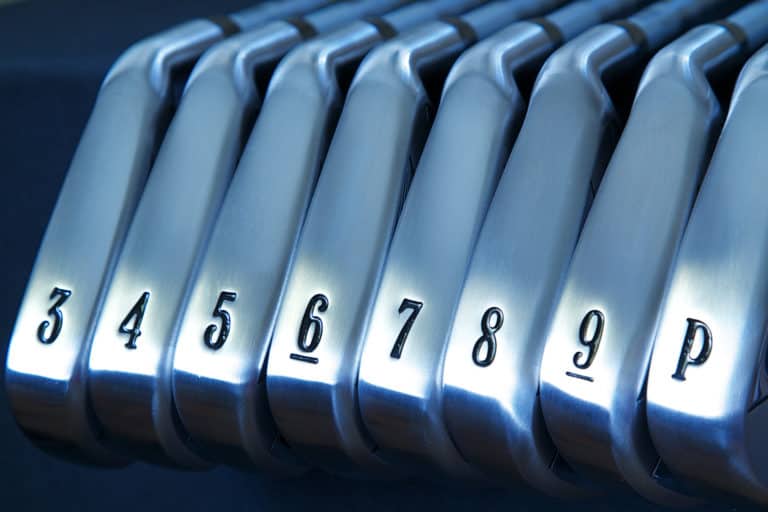 PRECISION TUNGSTEN WEIGHTING
Opening our list of the best Callaway irons is the Rogue ST MAX iron. Callaway aimed to achieve maximum speed with improved forgiveness. All of the company's advanced technology has been used in this model. This includes the optimized A.I. Flash Face Cup with high-strength 450 steel, high-density tungsten weights and urethane microspheres that reduce vibrations on off center hits.
We noticed that in designing the Rogue ST MAX irons, Callaway blended the technologies of the MAVRIK and Apex irons already known and well-established among experienced golfers. In summary, the Callaway Rogue ST MAX has demonstrated extreme speed and range at a high level of forgiveness. Basically these are game improvement irons.
With the combination of A.I. Flash Face Cup Design and high-strength 450 steel, Callaway reached increased ball speed across the entire surface. Flash Face Cup Design is the face architecture of each iron in the set aimed to improve spin stability, optimize landing angles and increase ball speed (COR).
Using 62 grams of Precision Tungsten Weighting in the Rogue ST MAX irons, Callaway has maximized its center of gravity (CG) and improved launch and speed.
Callaway's unique urethane microspheres in the Rogue ST Max irons absorb unwanted vibrations and noticeably improve sound and feel during your game.
If you are looking for a better forgiveness, I suggest taking a closer look at Rogue ST MAX OS Iron sets
long distance
great forgiveness across the face
short irons have good stopping power
comfortable feel
strong lofts aren't for everyone
It's worth noting right away that the Callaway MAVRIK Standard iron was a favorite on Golf Digest's Hot List in 2020, winning a gold medal.
MAVRIK was the first iron where Callaway used artificial intelligence to create unprecedented ball speed. Another thing that attracts us is the affordable price, considering all the technology it combines, and the fact that even the critics have rated this series of irons positively.
MAVRIK provide an amazing range and feel to the game. Flash Face Cup artificial intelligence has been used in these irons, which has been successfully applied in Epic Flash drivers.
As I noted earlier, the Flash Face Cup consists of a complex face surface architecture that is unique to each putter in the set. This face surface increases the speed of the ball and provides a more stable spin.
And here we see how Callaway accurately locates the center of gravity with custom tungsten weights in each iron. I'd like to clarify that tungsten allows a lot of mass to be concentrated in a small area.
In this set of irons you will see exactly the optimum launch conditions, trajectories, spin rates and landing angles.
Callaway uses patented urethane microspheres in all of its best irons. I've already written about this technology above. So I won't get into that.
Callaway Mavrik Irons will suit best high handicappers.
Good Distance 
Superb forgiveness
High & straight ball flight
Good sound 
We've seen better designs from Callaway
Callaway irons Apex Family are still among the industry's top selling and performing irons. Apex irons offer a strong combination of distance and forgiveness. In addition their sound and feel are great.
The Apex 21 iron has a real feel of a forged iron. What is actually you would expect from a 100% forged irons.
The mild carbon steel body (1025) adds to the excellent sound and feel. In addition, unique urethane microspheres, which are made up of over one million small air pockets, help to absorb mis-hit vibrations without detracting from the feel or sound of the game.
Shape of Apex 21 was modified in order to increase turf interaction.
For mid handicappers and low handicappers we advise to take a close look at Apex Pro 21. This is a perfect choice for advanced player.
Amazing looks
Good feel
Consistency in the distance 
Workability and forgiveness
Too much weight in the head
A little pricey 
Callaway used a wider sole and more offset in the Apex DCB 21 compared to the standard Apex 21. The higher start and deeper cavity of these forged irons are great for high handicap golfers.
Also like all the irons described above, the DCB 21 is a forged iron with Flash Face technology. But unlike the rest of the Callaway irons, this is the first iron to use a tungsten energy core.
Callaway has gone to great effort to maintain a similar feel throughout the Apex family. While the Apex DCB 21 is much larger than the Apex Pro 21, they deliver the same crisp, bouncy sound in the center.
But once you miss the center, that iron becomes loud. However, it is also an advantage because the audible feedback clearly shows you where you need to improve your ball striking.
The Flash Face Cup endows the ball with plenty of energy. If you add a strong loft to that, you have a great iron for long strikes. I also liked the fact that the DCB saved the speed of the ball when I missed the center during testing.
DCB would not be a great choice for low-start players. This iron is more suited to players who hit the ball with a medium to high trajectory.
And another thing to keep in mind when considering this iron is that irons with a strong loft often have problems holding greens.
Shifted center of gravity toward the club's heel enables the club to produce a gear-like effect
High speed and distance
Increased forgiveness
Slightly Lower Spin Rate
Too Deep Cavity
4I = 3.00MM
7I = 2.30MM
PW = 0.50MM
Callaway Irons Apex TCBs have achieved softness thanks to 1025 forged carbon steel. The slight crunch and click of a clean hit gives a nice feel while playing and accurately communicates where the golf ball meets the surface.
The Apex TCBs are quite compact with a classic look behind the ball and minimal offset.
The TCB provides a smooth and controlled trajectory. If you are looking at this iron, keep in mind that the TCB does not provide maximum distance or forgiveness. I would state TCB does offer just a decent level of forgiveness.
And one more piece of advice from me. If you can't find the middle of the surface on a very consistent basis, take a closer look at other Callaway irons.
Optimal ball flight and control is provided by the MIM'd internal and external tungsten weighting. The inner tungsten helps to control the flight of the ball and perform more optimal strokes. And the outer tungsten allows you to adjust the weight of the swing while keeping the Center of Gravity perfectly in the center.
Tour Tuned face plates provide extremely precise distance control and stable performance across the entire surface.
To summarize, TCB is designed for advanced golfers.
Fantastic look
Great shape
Perfect size
Not super forgiving if your ball striking isn't consistent
ADJUSTABLE SCREW WEIGHT
6 GRAMS EACH STANDARD
48 GRAMS TOTAL
4I = 2.80 MM
7I = 2.29 MM
PW = 1.65 MM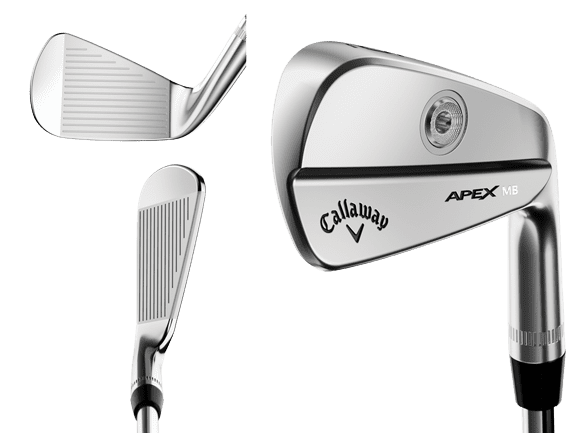 If you're a good hitter and are looking for an Callaway iron with a classic look and superior feel while playing, the 1025 Apex MB forged from carbon steel will be a great choice. You won't see much protection from mis-hitting in this airon, as the head is quite compact. But the removable weight in the muscle pad will allow you to change the swing weight without changing the center of gravity position.
Elite players will appreciate the superior look of this golf club with its traditional top line, compact blade length and refined sole. Complementing the classic look is a simple chrome finish.
Patented 20V grooves on the face are meant to produce a high degree of control with regular spin rates for predictable outcomes. This helps to guarantee that you do not get those potentially damaging flyers that sail 5-10 yards beyond the back of the green.
They mainly concentrate on lowering the frequency of shots taken from the rough, which can result in lower spin rates due to the increased amount of grass and wetness that lies between the ball and the club face.
When struck well the feel is amazing
Consistent performance 
Easier to hit than old blades
Marks remain due to the forged metal softness 
ADJUSTABLE PLATE WEIGHT
16 GRAMS EACH STANDARD
149 GRAMS TOTAL
4I = 3.30 MM
7I = 2.80 MM
PW = 2.29 MM
TOUR PROS TO LOW SINGLE DIGIT PLAYERS WHO NEED CONSISTENCY, CONTROL & AMAZING FEEL IN A FORGED CAVITY BACK DESIGN
The Callaway X Forged CB Irons have stunning to look and exceptional feel. The use of tungsten in their construction makes them surprisingly simple to hit. A sufficient amount of ball speed. Consistently positive trend.
The goal of the Callaway X Forged CB irons was to combine a conventional profile with one that is innovative and captivating. In this particular scenario, the novel element in question is the external tungsten weight that has been inserted into the back of the skull. This main point is tempered with minimal branding, a straightforward cavity, and a streamlined, angular design.
Callaway designed X Forged 21 CB irons mainly for advanced players. They meet the needs of the picky and experienced golfer. These golf clubs are perfect for players who have a club head speed that is somewhat greater than usual and are searching for a better performance. The X Forged CB irons are an excellent choice for you if you are a player who places a high priority on accuracy, appearance, and feel, but at the same time, you wouldn't mind having just a little bit extra distance.
Consistency and control
Plenty of speed on center
Beautiful design 
The look of a bulky club head
PRECISION TUNGSTEN WEIGHTING
What we like about these Callaway irons is the variable thickness of the face. The VFT's main goal is to widen the club face to allow for higher ball speeds and influences how it flexes to increase ball speed on off-center strokes. It makes this iron far more forgiving.
In addition, to maximize ball speed, Callaway has developed a shallow and flexible rim that bends and unbends at impact. We are sure that this feature will appeal to golf beginners and advanced players alike.
These clubs are perfect for novices since they provide a great degree of forgiveness. Your patterns will definitely become more rigid as a result, which will have the effect of lowering your total score.
These two characteristics do wonders for enhancing ball speed and range, so if you feel like you could use some additional assistance in any area, the Callaway Rogue Irons will serve you well.
Microspheres made of elastic urethane offer pleasant sound and feel without slowing down the speed of the ball.
Tungsten weighting in Callaway Rogue Irons bows to ensure the best possible flight path and level of control.
Long and forgiving
Great sound
High launch with good spin
Big Bertha Irons are designed for high-handicap players. The Big Bertha B21 is an excellent choice for you if you like an iron that has a hefty appearance, a thick top edge, and a significant amount of offset.
It has a light and satin surface, and its face is shallower, so it gives the impression that it has less lofted than it actually does.
The Big Bertha irons have a larger offset and wider soles than its predecessors.
This not only helps the player feel more in control of the golf ball, but it also enhances their engagement with the grass and makes for an easier launch, a more consistent ball flight, and less spin on the ball.
If you tend to struggle with a slice and hit straighter shots due to the offset on the Big Bertha B21, you're going to naturally see greater distance since more of the energy of the shot is channeled forward. This is because the Big Bertha B21 has a longer face than most other drivers.
Because of its fast face and high launch Big Bertha is on one of the longest and highest-flying irons.
Big Bertha irons have a high degree of forgiveness. When you get close to the green, you may experience a loss of touch and precision as a result of this.
High launch will be great for slower swingers
Very long 
Awesome overall looks
Short irons lack precision 
If you're still thinking about a new iron but aren't sure if you found what you need in this review, you might be interested in our recent 10 Best Golf Irons  Review.