One of the most significant advancements in golf technology over the last five years has been in the areas of golf swing analysis and shot-tracking software.
Despite the fact that the TrackMan is now a standard feature on PGA Tour driving ranges, it is out of reach for the average weekend golfer because it costs the same as a family car.
As a result of these developments, a number of companies are attempting to bring these technologies within reach of the average golfer.
Several of them have been reviewed, and this article will tell which golf swing analyzer will suit you best.
What Are Golf Swing Analyzers and How Do They Work?
When you use a golf swing analyzer, sensors and your smartphone work together to provide you with data, feedback, and sometimes even coaching. The techniques that are used to provide you with these tools vary, but they are an excellent way to learn more about your game and improve your performance overall.
The key to becoming a better golfer is to gain more knowledge. You must be familiar with your swing, be aware of your advantages, and be aware of how to overcome your disadvantages if you want to improve. Golf swing analyzers provide you with the information you need to determine whether your game is improving or deteriorating.
Practicing your golf swing on the driving range is something you may enjoy doing. If you choose the right golf swing analyzer, you will receive immediate feedback. You will know within a few seconds of making contact whether you executed your shot correctly or whether you made matters worse.
Can Golf Swing Analyzer Help?
Golf swing analyzers include:
Launch monitors.
ShotLink-style information providers.
Camera mounts that are specifically designed to capture the best video of your swing.
Launch monitors can assist you in getting correctly fitted for your adjustable clubs and dialing in the proper settings on your adjustable clubs. Once you learn how to analyze the numbers, they can provide valuable information about what your clubhead and clubface are doing at impact.
When it comes to course management, ShotLink-style systems that provide information, such as the PGA Tour's ShotLink, will be of great assistance. They'll give you feedback on which of your clubs produces the best results as well as which areas of the course you're wasting shots on.
These golf swing analyzers can be highly beneficial for players who believe they're hitting the ball well but can't quite figure out why their scores don't reflect their level of play.
The classic golf swing analyzer is straightforward: it consists of a video camera. Today's smartphones almost universally have excellent video cameras that allow you to record high-definition video of your swing and view it in slow motion. No matter how difficult it is to identify areas for improvement, sending your video to a professional or posting it online for critique is an option.
Is Golf Swing Analyzer Accurate?
hey are highly accurate. Golf swing analyzers are sophisticated equipment that use radar technology to take measurements of the motion that occurs in front of them as the golfer swings the club.
An electric golf swing analyzer, once activated, can accurately measure a variety of data categories, including ball speed, shot height, ball flight time, carry distance, clubhead speed, spin rate, and launch angle, among other things.
As the data accumulates, golfers can view the readings on various devices, including a computer or a smartphone, using the golf swing analyzer's software.
The information gathered by a golf swing analyzer can be used for a variety of purposes by golfers. Golf swing analyzers provide convenient readings that assist golfers in various ways, from identifying and correcting swing flaws to properly fitting new clubs for maximum performance and more.
Additionally take a look at our guides on the Best Golf Rangefinder 2022 and Best Golf GPS Watches 2022
Best Golf Swing Analyzer in 2022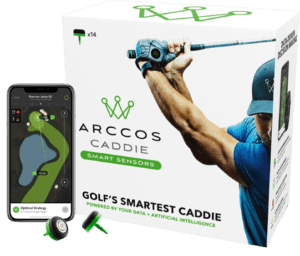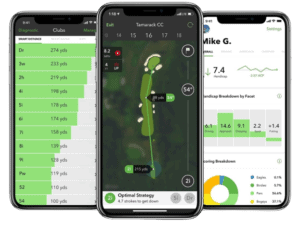 Arccos has done an outstanding job with Arccos Caddie Smart Sensors device and can fairly be called the best golf swing analyzer. It will significantly improve your golf game by providing highly accurate statistics and analytics, allowing you to pinpoint precisely where you need to improve your game.
This device can also be used as a rangefinder because it provides accurate course information and tells you exactly what you need to do to carry that bunker or hit that island green on the course.
To find your course, all you have to do is look for it on the app, download it, and you're done.
In contrast to the majority of other products on the market, Caddie makes personalized club recommendations and recommends the best strategies based on your performance data.
Because it is completely hands-free and fully automatic, it will not affect your game at all. You will not need to keep pressing buttons, tapping, or tagging because it is completely hands-free and fully automatic.
Because the battery is expected to last for five years, you won't even have to worry about charging this device after each game, which is convenient. It has the potential to become a permanent part of your golfing equipment.
The smart sensors can be installed on any set of golf clubs in minutes and do not require the use of any additional tools. Connect the sensors to the free IOS or Android app, and you can begin tracking your golf swing immediately.
The Arccos Caddie Number is the most precise yardage in the game, thanks to an artificial intelligence-powered GPS rangefinder, which adjusts in real time for wind (including gusts), elevation, temperature, humidity, and altitude to provide the most precise yardage in the game.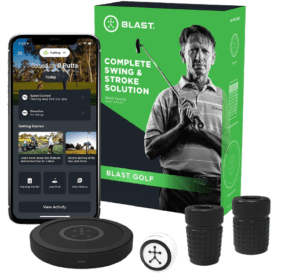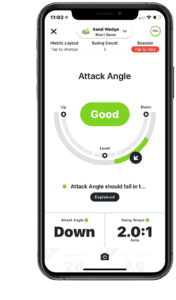 When you are on the driving range or putting green, it analyzes your swing and provides drills to help you improve your tempo and consistency on the golf course.
Consequently, while the technology is similar, the emphasis is different: swing analysis is more important than shot tracking and course management.
However, while the full-swing analysis is only marginally functional, this device shines when it comes to its putting analysis.
If your putting is the weakest area of your game, the Blast Golf Swing Trainer is a product that is well worth your consideration.
The previous golf swing analyzer should be screwed into the small hole at the end of the grip, while this one wraps around the edge of the grip, making it suitable for use with counter-weighted putters and oversized putting grips, among other things.
The app is a little buggy at first, but once you get it synced up, it's a well-designed app that records essential data such as tempo and clubface rotation for later reference.
Clubface rotation significantly impacts whether or not a putt will be successful. Still, it is frequently overlooked because it is difficult to measure and see with the naked eye.
When you use the Blast Golf Swing Trainer, you'll receive detailed information about your putting stroke, along with drills that will help you improve your weak points.
You can record your strokes in the Blast app if you include a small tripod or have a friend come along to video you (or purchase a SelfieGolf clip, which is reviewed below). It is easier to visualize a perfect stroke when you have a video, which brings you closer to making more putts.
The complete swing analysis is adequate but not outstanding. It's clear that Blast has concentrated its efforts on putting improvement first, and they've done an excellent job in that regard.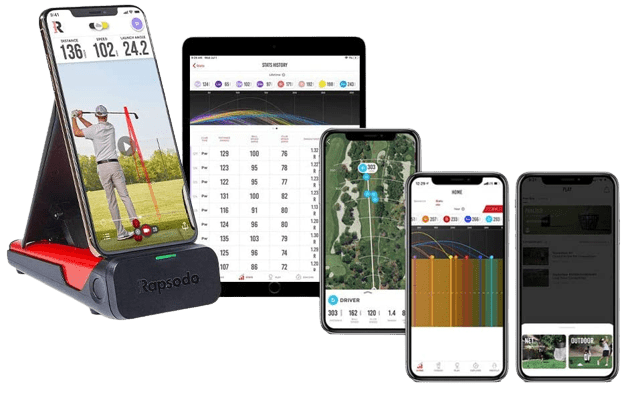 The Rapsodo Mobile Launch Monitor is a dynamic multi-faceted golf swing analyzer that measures your swing data with startling accuracy, making it ideal for indoor practice facilities or your favorite driving range. It is one of the most affordable golf swing analyzers on the market.
Launch monitors are known for their lightning-fast setup times of less than 30 seconds. Because of the real-time video feedback on the screen of the iPhone or iPad, the feedback after a shot is also instantaneous, as a shot tracer tracks the arc and distance of your swing. The data is also displayed on the screen, allowing you to quickly overview your current distance, swing speed, and launch angle.
Rapsodo claims that their launch monitor is accurate to within 2.5 percent of the much more expensive Trackman unit and that it costs a fraction of the price of the Trackman. During our time with the product, we were extremely pleased with the results displayed by the launch monitor. Everything is relevant, and the app records all of the numbers in their history so that they can see how the swing is progressing over time in greater detail.
When you first start using this golf swing analyzer, one of the most challenging tasks is ensuring that the unit is correctly installed on top of the sensor and placed at the proper distance away from the swing itself. The monitor to gather an accurate reading requires six feet of space behind the swing; this is an important consideration to keep in mind when first setting up the device.
Rapsodo R-Motion has the following features: 
– Real-time data – The app is handy whether you're planning outside or using it as a stimulator because it provides a wealth of helpful information. As opposed to the other options on this list, it provides information on the smash factor, ball speed, club speed, swing path, distance traveled, and launch angle of the ball. The program includes everything you need to improve your gaming skills!
Golf Simulator Mode comes preloaded with 15 different top-rated courses to choose from, as well as a driving range mode for practice.
With Multiplayer mode, you can challenge your friends to competitions all over the world.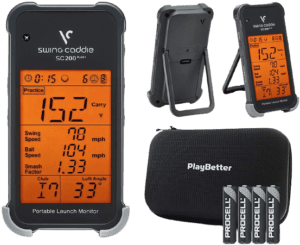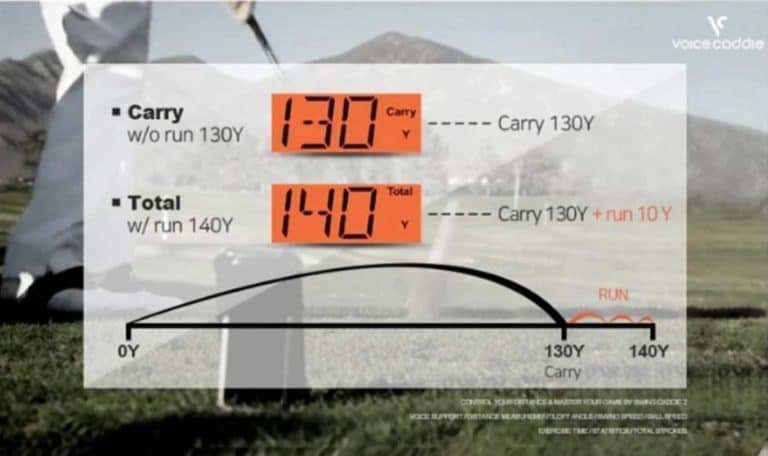 After the complete installation of SC200 Portable Launch Monitor, you can use the included remote control to select which club you'll be hitting to predict the launch angle and provide you with more accurate numbers.
The remote control is simple to operate. The durability of what appears to be a fairly flimsy remote control is called into question, so make sure you're storing it properly and handling it with care.
In addition to carry distance, swing speed, ball speed, smash factor (which is a fun metric that indicates how well-hit the ball is — hit the sweet spot perfectly for maximum smash), and that's about it for the SC200. As a result, the information is useful, but it is limited in scope.
The accuracy of the roll-out estimation and the availability of launch angles would make this a higher-rated product. Given that we are currently in the midst of the "launch angle revolution," in which distances are being maximized by optimizing the launch angle for each individual golfer's swing, this is an egregious omission.
And if you're hitting a driver, knowing your carry distance is useful, but if you max out your carry distance without considering roll-out, you may end up losing overall yardage.
It also required a reset more frequently than I would have liked, as it appears that the RAM or cache becomes overloaded and the computer begins to freeze. Additionally, you must be cautious when practicing swings because it will record them.
In order to find overall number trends, you don't want your practice swings to be taken into consideration.
Overall, though, this is a fantastic little launch monitor, especially considering the price. Afterwards, you'll wonder how you ever got by without a little robot calling out your carry distances after every shot on the shooting range.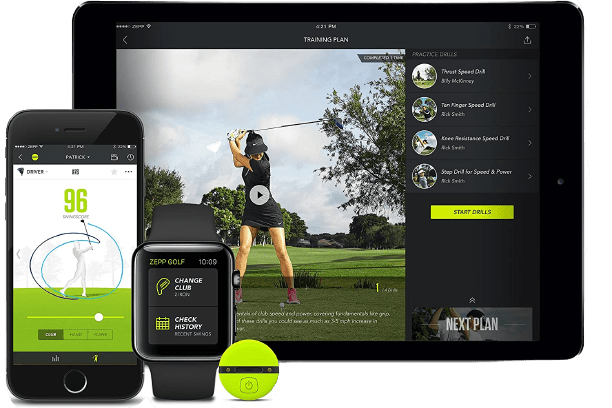 The Zepp 2 is excellent among golf sensors currently available on the market. Its wide range of features, software capabilities, design, and ease of use have helped it become one quite popular swing analyzer on the market today.
The use of Zepp 2 will be highly beneficial to both beginners and advanced golfers.
The Zepp analyzer, which is similar to the Arccos product, uses a sensor to assist you with your swing. To use this item, you must attach one sensor to your golf glove and swing as usual. You will receive a 3-D swing analysis right away, allowing you to determine your swing plane and speed.
"Smart Coach" will give you suggestions and feedback to help you make a better move when you own the ball. This golf swing analyzer will assist you in developing action plans and providing you with progress reports regularly.
The Zepp 2 collects data from the dual accelerometers and 3-axis gyroscopes built into the device during your swing. In addition to clubhead speed and hand path, you can also record backswing and position data and hip rotation and follow-through, among other metrics and statistics.
Using the Zepp Golf 2 3D swing analyzer, you can review and analyze your swing in 360-degrees in high definition and then compare your swing to that of your favorite professional golfer.
The fact that the simulator and analyzer are simple to set up and communicate with one another via Bluetooth is a plus. The battery life has a capacity of up to 8 hours of use and can be entirely recharged in 1.5 hours.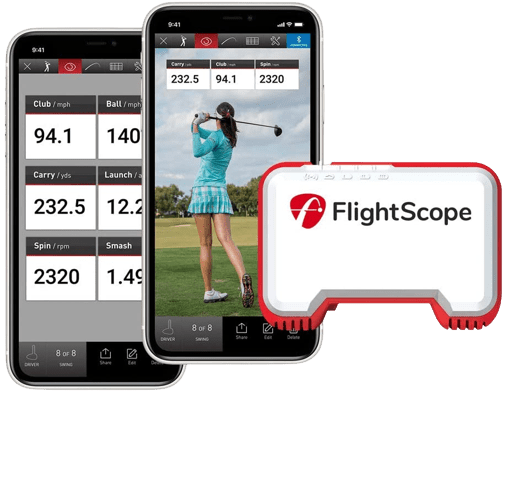 The Mevo measures almost everything you're likely to need during the game, including distance, clubhead speed, ball speed, flight time, spin rate, smash factor, apex height, and launch angle.
To share the data with your coach for some additional tips after reviewing it, the Mevo automatically records video and data and then saves it.
With its sleek design, you can safely store it in your pocket or the pocket of your golf bag – it's the perfect size to carry with you wherever you go.
FlightScope recommends that you apply a small metallic sticker to the golf ball to achieve better and more accurate results. These tiny, metallic sticker dots are included with the product, and you can always buy more if you run out.
There are versions of the app for both iOS and Android devices. It is unlikely that you will require extensive instruction on using the MEVO device due to the well-designed MEVO application.
You only need to sync the devices together via Bluetooth once you've downloaded the app – after that, everything is set and ready to go.
The interface can be customized to your liking for your convenience. You can customize how you view the data by selecting from several different interface options available.
Data blocks, data table screen, 2d trajectory with data blocks, data table screen with averages, and video from any angle are just a few of the options available – and you can even customize the data overlay to suit your needs.
This device has three operating modes:
Indoors mode should be used when the ball flight will be less than 35 meters.
Outdoors mode is the best choice when there are no barriers, cages, or nets in the way of the ball.
Chipping mode when it is supposed that the ball will travel less than 18 meters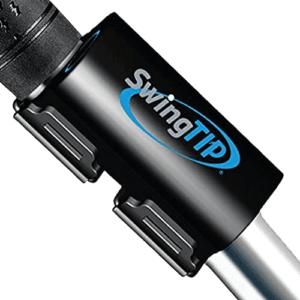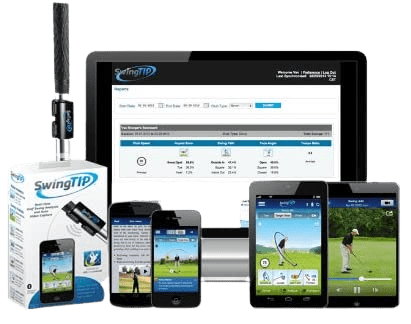 One of the most impressive initial features of the SwingTip is the polished presentation of the metrics provided to the user and the ease to access them. There have been a couple of changes here over the course of the various updates, but the swing tempo change is the one that stands out the most to me. Initially, the app displayed tempo as the total amount of time elapsed; however, tapping on the metric can now be displayed as the backswing to downswing ratio.
If you are presented with data, SwingTip can apply this information to improve your swing. For this purpose, Mobiplex developed a tool known as the Power/Plane Analysis tool, available on their website. A recorded swing can be opened in Analysis mode by simply tapping on the "Analysis" button at the bottom of the screen.
This feature breaks down the swing data into nine different focal areas, including address lie angle, takeaway, backswing plane, downswing plane, backswing length, release, the speed at impact, acceleration point, and swing arc. Address lie angle, takeaway, backswing plane, downswing plane, backswing length, release, the speed at impact, acceleration point, and swing arc are all included. Each piece of information is presented on the screen in the form of highlighted numbers depicted on the ACTUAL swing path for that swing, and it makes use of all three perspectives (top, target, and front).
The ability to record your actual swings within the SwingTip app itself may be where the most innovation and evolution occurred within the product overall.
With the "Smart Capture" feature, you can record your swing from any angle possible by utilizing the microphone and front-facing camera on your iPhone or iPad. Using the frontal camera allows you to check your alignment and use on-screen instructions to get yourself at the proper distance from the device for recording. The frontal camera is also helpful because it allows you to glance at the screen and make sure you are correctly aligned.
One exciting feature is that, rather than having to press record before each swing, the SwingTip automatically triggers and trims the recording because it already recognizes when a swing begins and ends. Because there is no excess footage, this is much more convenient than the essential video apps I have used in the past. The video can also be recorded from any angle, which is helpful if you work on a specific area that is better seen from a specific angle. The video can also be recorded from any angle.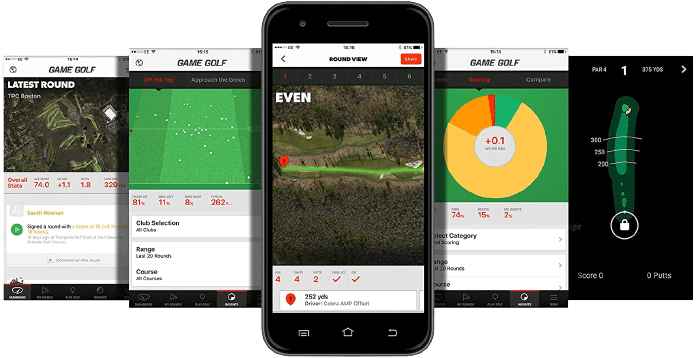 At a pretty affordable price, this award-winning shot tracking system from Game Golf is loaded with all of the features you'll need to help you achieve your next golfing goal.
After being attached to your belt, the primary device communicates with feather-light sensor tags that are attached to the tops of your club shafts. Once the devices are in place, all left is to download the app and get to swinging.
Having to attach the device to your belt may not be ideal for some people, but considering the amount of data you can get from such a small device, it is well worth the minor inconvenience to you.
The GPS Automatic Shot Tracking feature will measure and store the data from each of your shots for post-round analysis using GPS technology. Also included is an integrated rangefinder, which allows you to get precise distances to greens, hazards, and doglegs on your golf course.
The Strokes Gained Analysis is a beneficial feature. When you look at the scoreboard, it essentially shows you where you made gains in strokes during the round – something that is typically difficult to calculate manually.
The Insights feature, which allows you to review your shot tendencies for both tee shots and approach shots, is another feature that you should take advantage of. This eliminates a lot of the guesswork and makes it much easier to track your progress over the course of a year.
Finally, there is the Challenges feature, which allows you to compete against friends and other golfers from all over the world online.
A reasonably priced product that performs admirably and comes with a wide variety of valuable features. In particular, the built-in GPS is handy, especially for those who do not already have a rangefinder on hand.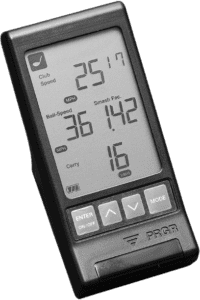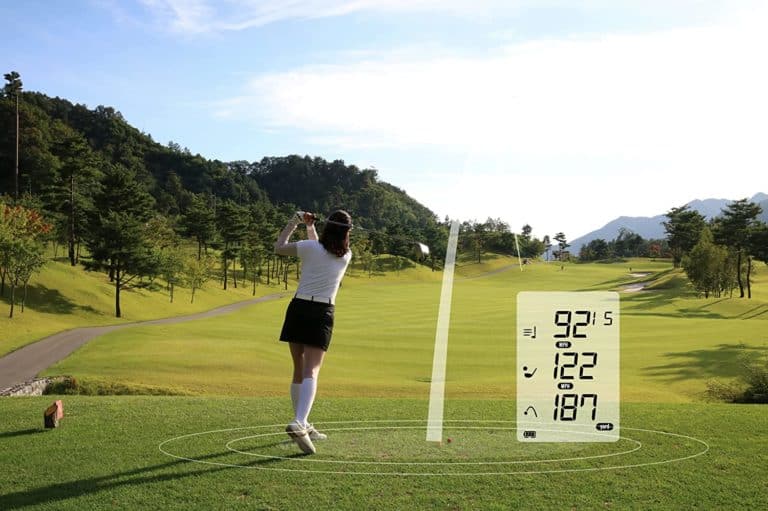 Because of this device's reasonably affordable (low, I would say) cost, many golfers wonder how accurate the PRGR is. After testing several hundred strokes and reviewing hundreds of reviews, the PRGR is exceptionally accurate.
Expect to receive less accurate measurements than those you would receive from a TrackMan, although I was pleasantly surprised by their accuracy. The low price and relatively accurate yardage and speed readings of the PRGR monitor continue to be its main attractions.
If you're looking for as much swing data as possible, you'll most likely be disappointed with the PRGR monitor's performance. Golfers are only given five data points: clubhead speed, ball speed, smash factor, carry distance, and total distance. Moreover, while this may seem insignificant, for younger or less experienced golfers, these main statistical areas can serve as a solid foundation for future improvement.
Because the device requires four AAA batteries to operate, you will need to bring extra batteries to the range to ensure that you do not lose service during your workout.
The PRGR Pocket Launch Monitor, which offers a high-quality launch monitor at a very reasonable price, is a valuable tool for data-hungry golfers who want to improve their distance on the course.